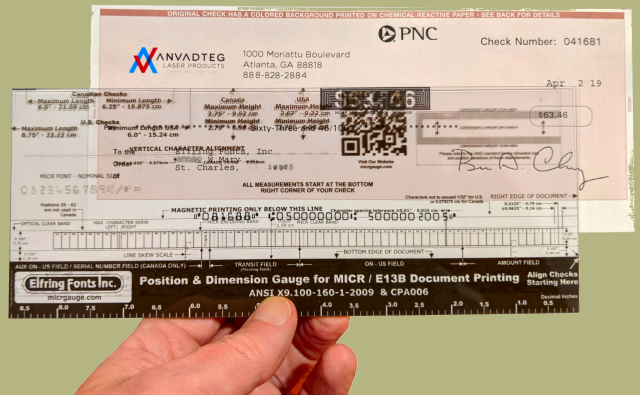 MICR Check Position Gauge -
$59.95
$39.95
Why do you need a MICR Gauge?
It is the only way to quickly and easily verify that everything on your check is accurately printed and in the proper positions.
The U.S. Check 21 Act and the Canadian CPA006 law place very strict requirements on check layout and MICR line placement.
Are you sure you aren't placing the items on your check in the wrong positions?
Do any of your data items infringe on the neighboring fields?
Verify your encoding line is correctly positioned, meets character spacing requirements, and is not skewed.
Our MICR Mounted Check Position Gauge is a clear plastic template glued to a backer board. Just slide your check between the clear template and the backer board to make your measurements.
We also sell just the MICR Film Position Gauge, which has no backer board. You move the film over your check to make all measurements.
Either gauge indicates whether or not your MICR encoding line is correct, validating character spacing, line skew, and field positions. The MICR Gauge also shows you the magnetic clear zone, maximum and minimum check heights and widths, and much more. It even includes a decimal inch ruler.
Problems with check printing. Do you know all the things to look for when you lay out a new check design? Will your check layout meet the minimum banking standards? Checks have minimum and maximum widths and heights. Do you know what they are? What is the required signal strength in your laser printer's magnetic toner? All checks have a clear zone near the bottom of the check that can have no magnetic particles. Do your checks meet this standard? If not, they will be rejected by your bank! MICR encoding must to be printed with an accuracy of one part in a thousand. Does your encoding line meet that standard?
Do you auto-sign your checks? The clear zone applies to the signature line too. If your signature intrudes into the clear zone your check will be rejected. Are you printing your company information, payee name, amount, and other information in the proper places? If not, your bank will reject your checks. If you need to print signatures on your checks, we can help.
U.S. & Canadian Standards. Our MICR position gauge covers the latest U.S. ANSI standard X9.100-160-1-2009 and Canadian CPA-006 standards. This single gauge is all you need in either country. Complete gauge instructions are included.
Elfring Fonts, Inc.
4N899 W Mary Dr
St Charles, IL 60175

Phone Orders:
1-630-440-2456